Everybody wants to keep their skin looking young and clear, and this is one of the main reasons why brightening serums are gaining in popularity nowadays. And this is a good trend because vitamin C helps skin remain younger for significantly longer than it's able to do so on its own, when not supported with nutrients. It's also worth realizing that the majority of anti-ageing creams will never be as effective as a vitamin C face serum. Why? Because creams affect only the outermost layer of skin, whereas face serums are designed to penetrate deeper. That being said, if you want to keep your skin from ageing, pick skincare products formulated with this precious nutrient. A skincare product like Nanoil Vitamin C Face Serum. Why this one?
Isn't it dangerous to use brightening serum in the summer?
Many myths surround vitamin C, and one of them says that you shouldn't apply this nutrient to your face in the summer. This is completely untrue! You can use vitamin C face serum whatever season you want to, including the summer.
When is the best time to start using a brightening serum?
One of the key roles played by vitamin C is delaying ageing. For that reason, it's suggested introducing vitamin C face serum to a daily skin routine once the skin begins to lose its collagen and elastin fibers, which occurs around 25 years of age. Even though a 25-year-old skin doesn't reveal it yet, it does start developing wrinkles and sagging, which is the best moment to start treating it with anti-ageing products, including a vitamin C serum.
Should you apply vitamin C serum in the morning or evening?
The good news is that you can use a brightening serum in the morning and evening. If you do this in the morning, you will get the effect of luminous skin throughout the entire day. If you do this at bedtime, you will help your skin perform its self-renewal processes that occur at night.
What's the best way to apply Nanoil Vitamin C Serum?
Firstly, you have to make the skin clean and then wipe it with a facial toner. After going through these two stages, you can move on to applying the serum.
It's important to put vitamin C serum to a damp face because this helps the active substances penetrate skin deeper. You should use 3-4 drops per application, putting one drop on the forehead, one drop on each cheek and one on neck – yes, neck. Don't forget to include this part of your skin in your beauty ritual because it's thin and has its needs too. Once the serum is in its place, you can move on to massaging. Use your fingertips to help the skin absorb the serum fully.
Depending on whether you use the serum in the morning or evening, you need to follow it with a different set of products.
MORNING APPLICATION Once Nanoil Vitamin C Face Serum is fully absorbed by your skin, apply a sunscreen SPF 30, or higher. It's worth realizing that vitamin C helps sunscreens work better and protect your skin from the UV light.
EVENING APPLICATION Again, when you feel that the serum is absorbed completely, apply either a face cream or a cosmetic oil.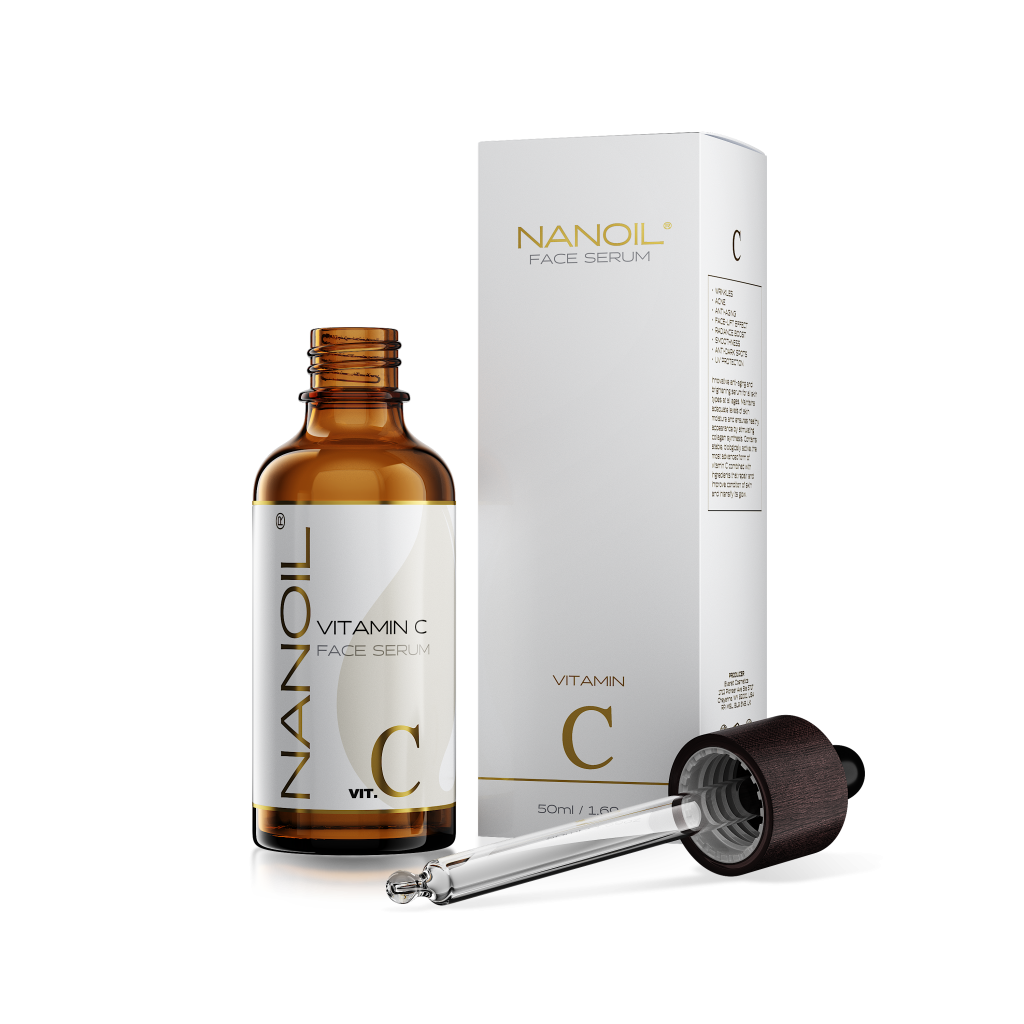 Why is choosing Nanoil Vitamin C Face Serum a good idea?
Many cosmetic brands have a vitamin C face serum in their offer. Sometimes, when the choice is wide, it's hard to decide which product to pick. To make the decision easier for you, we have listed three reasons why choosing Nanoil Vitamin C Face Serum is a good idea.
SIZE This brightening serum from Nanoil comes in a 1.69 fl. oz (50 ml) bottle, which is almost twice as much when compared to regular face serums (1.01 fl. oz / 30 ml).
FOR ALL SKIN TYPES No matter what type your skin is, Nanoil serum is the product for you – and this includes even those with problematic, sensitive and acne-prone skin.
PRICE Taking into consideration the fact that you get an XL-size brightening serum, its cost is surprisingly low.
If you're interested in giving Nanoil Vitamin C Face Serum a try, you can order it from www.nanoil.co.uk. But don't hesitate long because this serum sells out pretty fast.