Hair and scalp detox is one of the most important treatments that should be perceived as one of our healthy hair habits. How to cleanse strands and scalp? It would be best if it was done with hair care products containing activated charcoal. One of such products is Nanoil Charcoal & White Clay hair mask that is definitely on the leading edge among all hair care products with activated charcoal. This is a lightweight and effective product that you will fall in love with from the very first use.
Why does hair need cleansing? Because every day various types of dirt accumulate on the strands – not only excess sebum, sweat and dust but also extremely harmful toxins tend to residue on our heads. As it turns out, a substance that successfully deals with this issue is activated charcoal. Look for this substance in cosmetics and take your hair care to the new level.
Nanoil hair mask with activated charcoal
Nowadays when the levels of urban pollution rise continuously, which poses a threat not only to our health but also to our beauty, Nanoil comes to us with a solution – hair mask with activated charcoal and white clay. The formula based on these two ingredients has deeply cleansing properties which make this inconspicuous product a valuable supplement for daily hair care – apart from nourishing it also leaves hair clean and lifted at roots.
This is a professional hair care product designed for all hair types. This means that Nanoil Charcoal & White Clay is suitable both for dry as well as oily hair – after all, every hair type needs cleansing. You can be sure that your hair too will love Nanoil hair mask with charcoal!
Nanoil Charcoal & White Clay Mask: Ingredients
Such high performance of Nanoil hair masks (note: charcoal mask is one out of five hair masks offered by Nanoil) is the result of combining the highest quality ingredients into a formula that doesn't weigh hair down and penetrates hair easily.
This product offers a diversity of micro elements taken from the earth, and they are all-natural and incredibly effective in delivering the desired effects.
Activated charcoal – removes toxins, absorbs impurities.
White clay – cleanses scalp, regenerates and mineralizes.
Sea algae – moisturize, leave hair soft and resilient.
Vitamin complex – revitalizes and rebuilds micro-damage.
Panthenol – improves moisture, takes care of and reinforces hair.
People with sensitive skin and fine hair should be happy to hear that Nanoil hair mask doesn't include in its composition any unnecessary additives such as PEGs.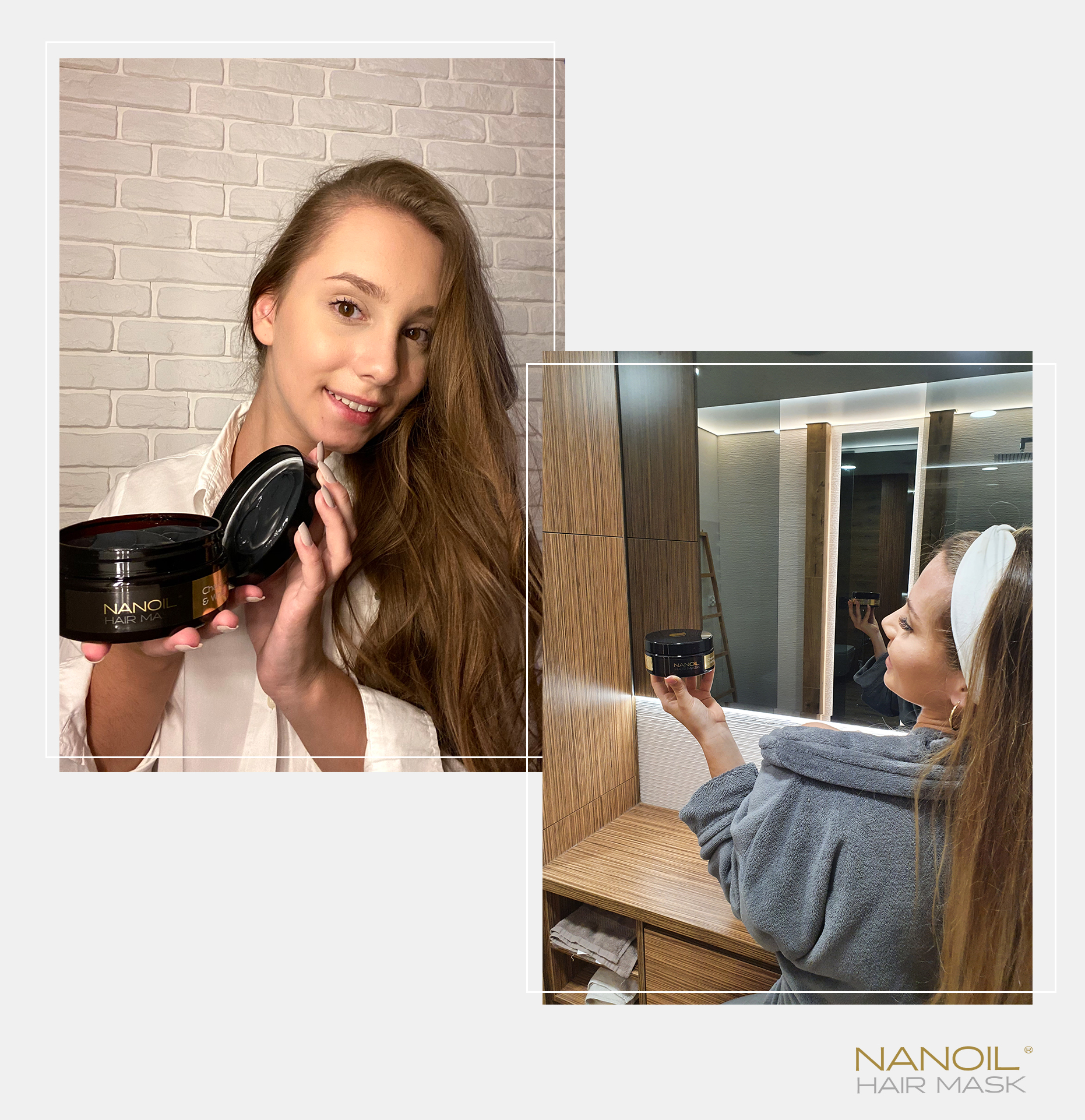 Nanoil Charcoal & White Clay Mask: Effects
Hair and scalp detox? This is the perfect task for Nanoil hair mask with activated charcoal and white clay. This hair care product accomplishes two tasks: it takes care of hair and cleanses it deeply.
What are all the benefits of using Nanoil Charcoal & White Clay Mask?
Frees hair from impurities.
Removes toxin build-up from scalp.
Takes care of hair by nourishing, moisturizing and revitalizing it.
Improves hair self-regenerating abilities.
Has a strong antioxidative and anti-ageing effect.
Eases combing and hair styling.
Makes hair shiny, soft and bouncy.
Feel the doubled power of hair improvement on yourself by choosing Nanoil Charcoal & White Clay Mask.
Nanoil Charcoal & White Clay Mask: Application
In order to enjoy all the benefits, you have to use Nanoil hair mask with activated charcoal at least once a week. The application process isn't complicated at all – if you apply a dollop of the mask to washed and still damp hair, let it sit for 15 minutes and then rinse, you can be sure that the hair will restore its soft feel and shine. When used regularly, this at-home cleansing/conditioning treatment will make your strands smoother and more bouncy. This in turn will considerably ease your daily hair styling.
Check this out by ordering this hair mask on www.nanoil.co.uk