Hyper-reactive skin is pretty demanding and problematic, and therefore it can't be conditioned by just random skincare products. Only mild cosmetics soothe and improve the appearance of sensitive skin. Anti-Redness Face Serum launched by Nanoil is one of them. Keep reading to find out if this new offering is tailored to your skin's needs.
Is my skin hyper-reactive?
Here are some common signs that may signalize that your skin is extremely sensitive
thin skin
visible blood vessels
facial redness
tendency to irritation
rosacea
itchiness
prickling
What skin type is Nanoil Anti-Redness serum good for?
Even though it seems that this serum is dedicated only to combat facial redness, it's also proven to have a positive effect on other skin types. This means that you can reach for Nanoil Anti-Redness Face Serum if your skin is:
mature
hyper-reactive
acne-prone
irritation-prone
features signs of ageing
This means that Nanoil serum is perfect for those who wish to improve the condition of their skin and reduce all types of facial redness, no matter the cause.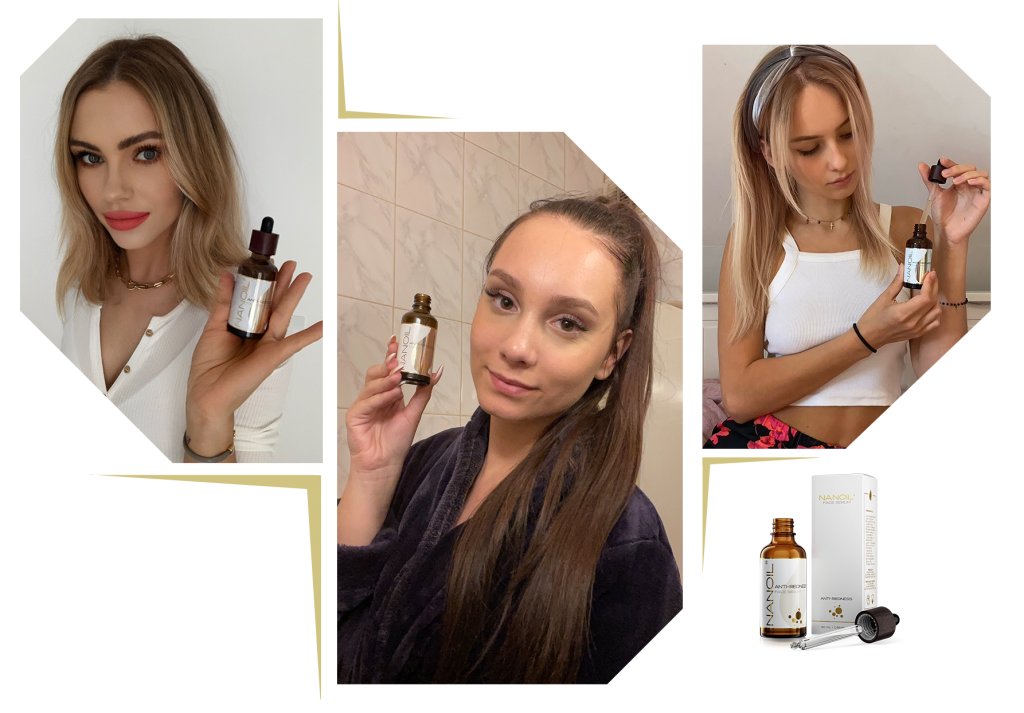 What are the effects of using Nanoil Anti-Redness Face Serum?
Some effects appear quicker, some need a week or two to become obvious, whereas others appear after a month of regular application of the serum. Nevertheless, the longer the serum is used, the better results you get, and you can expect the following benefits:
boosted resistance to external aggressors
moisturized and nourished skin
reduced facial redness
no prickling or tightness
no more broken capillaries
How do you apply Nanoil Anti-Redness Face Serum
WHAT TIME You can use Nanoil Anti-Redness Face Serum either in the morning or before going to bed.
HOW OFTEN Nanoil serum is safe and mild enough to be applied twice a day, but it will give you the desired results when applied once a day. Regular application is crucial.
HOW MUCH Just three or four drops per application suffice. Remember to spread the serum also to the neck and chest.
HOW To cleansed and dry skin apply a few drops of the serum. Massage the skin with clean fingertips. When the skin absorbs the serum, follow with a cosmetic oil or face cream.
Nanoil Anti-Redness Face Serum to soothe irritated skin
If you're looking for a gentle and nutrient-rich skincare product for your hyper-reactive skin, seek no further but visit the official Nanoil store to order Nanoil Anti-Redness Face Serum. In case you're a fan of all-natural and cruelty-free beauty products, you may also be interested in other Nanoil cosmetics. The complete lists of ingredients and information concerning application of Nanoil products are available on their website.