Do you dry, straighten or curl your hair every day? If so, be sure that you protect it from heat damage. Otherwise, your strands will get brittle, dry and dull pretty fast. How to do it? Luckily, this is simple. All you need to do is find a high quality heat protectant – the one that really works. In case you don't have time to check for yourself which heat protectant suits your hair, we have tested and selected 7 best-selling heat defenders.
Heat protection products for hair are an absolute must if you have hot styling tools at home. Even if you use a hairdryer once in a while, the high temperature causes damage, leaving you with frizzy and dull strands.
Why using heat protection prior to hot styling is necessary
Do you know what temperature your hair is able to endure? It's as little as 120 degrees Fahrenheit (50 degrees Celsius). Now think what was the temperature setting on your flat iron the last time you used it.
Let's be honest, there is no hot styling tool that gives off such a low temperature. To create a desired hairstyle, you use at least 400 degrees Fahrenheit, often going even higher than that. What happens to the hair then? It is getting breakable, brittle and prone to damage.
This happens because healthy hair has water and keratin inside. When exposed to the heat, the water evaporates, and the keratin bonds are being distorted, starting to break. This is how you see split ends, dullness and brittleness. Fortunately, you can prevent this simply by creating a protective coating on the hair.
Heat protection that really works
Lucky for us, heat protection products are very easy to get. Before choosing just any product, it must be realized that some of them work better than others. There are also heat protectants that supply hair with nutrients and moisture.
It's also important to use a heat protection product that matches your hair type. Some of them are creamy, others are sold in a spray form. The former are designed mostly for heavy and low porous hair. Oil-based heat protectants are good for extremely damaged and frizz-prone hair. Sprays are the most universal, and proven to suit all hair types.
How to choose the right product? Go on reading – we believe you will find the right heat protection product below.
Ranking of the best heat protection products for hair
NUMBER 1 – the best heat protection spray for hair
Nanoil Heat Protectant Spray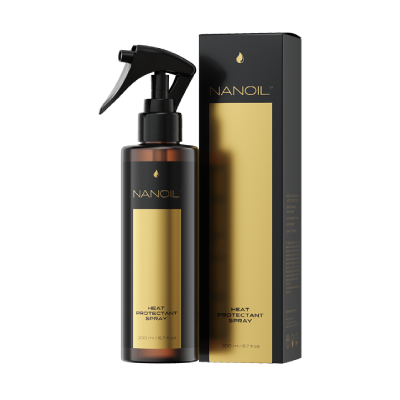 This is an ideal heat protection product because it not only defends the hair from high temps (440°F/220°C) but it's also deeply nourishing. The formula is made up of active ingredients, silk proteins and vitamin E that keep hair safe and healthy-looking. Additionally, it's lightweight so the protective coating doesn't deprive hair of volume but isolates it from urban pollution, UV and mechanical damage. By trapping moisture inside, Nanoil Heat Protection Spray combats frizz and disciplines unruly wisps. With this product hair is instantly smooth, pleasant to the touch and more elastic. You can apply it to clean strands after washing or to dry hair, always in a few seconds before heat styling. No clumping, no greasy finish, no volume loss. If Nanoil Heat Protection Spray seems to be your go-to, you can order it from nanoil.co.uk.
NUMBER 2 – hair mist that protects the hair from high temps
Davines Essential Haircare Melu Hair Shield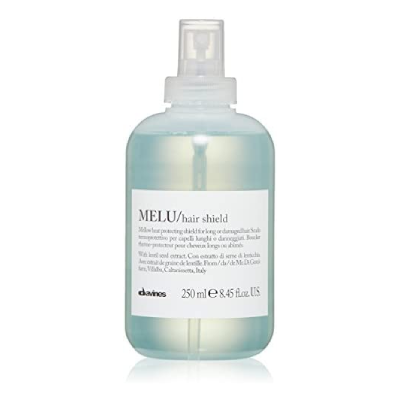 Here is a leave-in conditioner produced by one of the widely popular cosmetic brands. Melu Hair Shield is dedicated for long and damaged hair, but it doesn't mean that those with short hair can't use it – this product suits all types of hair. The formula is enriched with an active ingredient extracted from Villalba lentil seed. This one is proven to be a rich source of serine and glutamic acid, both having a positive effect on the strands. But most of all, this extract is rich in amino acids and keratin – the main building block of hair. This is why Davines Essential Haircare Melu Hair Shield is able to reverse damage in over-processed hair. You can use this product daily, always before reaching for a hairdryer, flat iron or other hot styling tool.
NUMBER 3 – thermo-protective spray
Kemon And Heat Spray 13
If you want to keep your hair safe during heat styling, you may be interested in what Kemon has in its offer. Its Heat Spray 13 is formulated with ferulic acid and grape seed procyanidin that are known for making hair look better and increasing its resistance to high temperatures. This thermo-protective spray creates a strong shield around the hair to isolate it from the heat that flat iron or hair dryer give off. The same shield is responsible for protecting from UV without dragging hair down, which is good news for those with fine hair. The finish created is shiny, which makes the style look even better. For the extra few pounds that you need to get this product, Kemon also promises to replenish water to your hair, which is a huge plus.
NUMBER 4 – heat protection balm for damaged hair
Kerastase Genesis Defense Thermique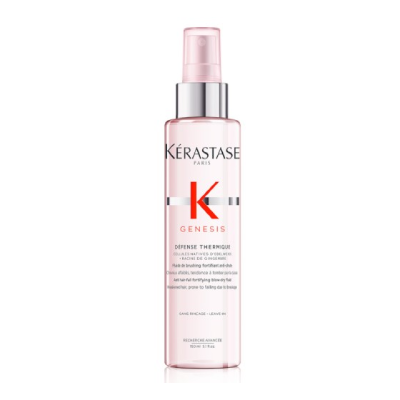 This hair balm won't work unless you expose it to high temperatures, which is pretty uncommon. Kerastase Genesis Defense Thermique contains coconut oil, ginger root extract and edelweiss stem cells that promote better-looking hair. Made mainly for professional hair salons, this product is getting more and more popular among regular users. It fixes weak hair and prevents thinning caused by brittleness. The protective coating it forms around the hair is able to shield it from temperatures reaching 440 degrees Fahrenheit / 220 degrees Celsius. Even though this cosmetic contains oil, it's not supposed to weigh hair down. It's also designed to moisturize dry strands, smooth them and boost shine. This is a great product, no doubt, but if you want to discover its full potential, you need to team it with other products from the series.
NUMBER 5 – hold and heat protection spray 3 in 1
OWay Thermal Stress Protector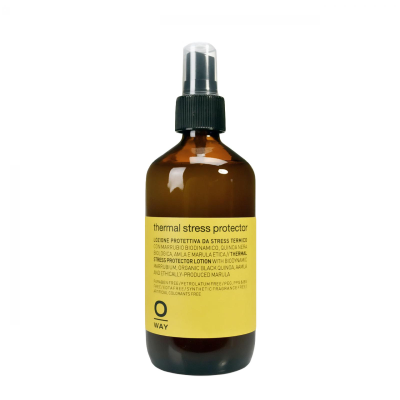 This heat protection spray's formula is impressive. It's made from uncommon ingredients, such as biodynamic extract of shanties, organic quinoa, marula and shea butter. Together, these ingredients replenish water to hair, provide protection and in general leave you with stronger and better-looking hair. This means that OWay Thermal Stress Protector can be used not only to shield the strands from the negative effects of heat styling but also to smooth out the cuticles for a shinier and smoother appearance. What's interesting, even though this spray has to be applied to the length of the hair, it focuses on the ends, preventing them from splitting. The good news is that this spray is also able to keep a hairstyle in place, so you don't need to do any touch-ups throughout the day.
NUMBER 6 – restorative heat-activated hair care
Sisley La Creme 230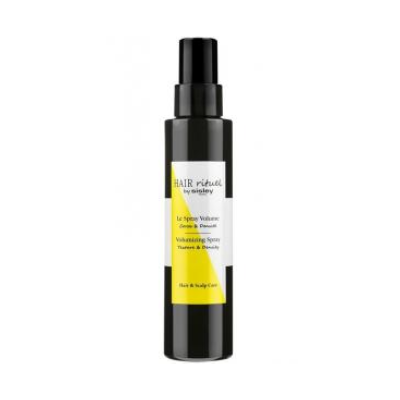 This world-known French beauty brand has launched a heat protection cream for hair. As for the formula, it contains polymers, sugarcane derivative, camellia oil, moringa oil and cotton proteins – all for stronger, protected and shinier hair. There is also another intriguing ingredient and its name is Complex 230, which is said to be activated by high temperatures. As the name suggests, it shields the hair against the temperatures reaching 450°F/230°C. Since the formula is rich in oils, it may weigh fine hair down, especially if you use too much product. However, when applied correctly, Sisley La Creme 230 gives you a strong, shiny and perfect-looking hairstyle. The only thing that puts off most customers is the high price.
NUMBER 7 – thermal protection spray
CHI 44 Iron Guard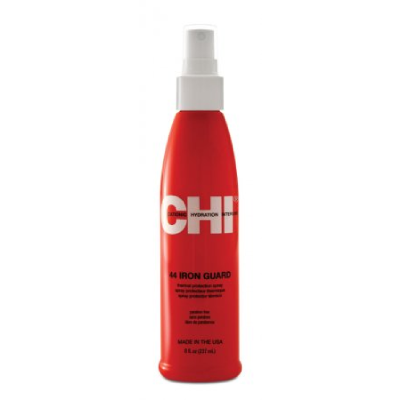 This product works wonders, especially when you are a fan of a flat iron, and use it on your hair even a few times a day. It's said not to drag hair down, but if you use too much, you may end up with stringy hair. The protective coating shields the strands from all the negative effects of hot styling. This means that CHI 44 Iron Guard keeps hair moisturized, elastic and resistant to breakage. This is owed to the formula that contains hydrolyzed silk. This product is free from parabens and was not tested on animals. Enriched with a few vitamins, it suits all hair types, but it works best for dry, curly and thick hair mostly because it combats frizz and tames unruly hair.