NANOIL Castor Oil – natural, popular, effective
Castor oil (Ricinus Communis Seed Oil) is the best cure for damaged hair, eyebrows in bad condition, skin showing cellulite and stretch marks, and weak nails. 100% natural, cosmetic NANOIL Castor Oil is the most popular oil that gives the best results and is filled with precious nutrients. Get to know it!
Castor oil – full of precious ingredients
Castor bean plant, from the seeds of which castor oil is extracted, has several care ingredients important for the skin and hair, including fatty acids, such as ricinoleic acid (unique and important in this oil), linoleic or oleic acids. This cold-pressed oil has found application not only in pharmacology but also in cosmetics. For generations, it has been considered an irreplaceable care treatment for hair, eyebrow, and eyelash growth. It is a source of vitamins (vitamins A and E) and nutrients, necessary for achieving beautiful skin and strong and healthy hair.
NANOIL Castor Oil
This is the most excellent beauty product of the year! Unquestionably, it's the best-rated and most popularm cosmetic castor oil. It's enclosed in a large capacity, elegant glass bottle with a handy dropper, and it provides great quality in relation to the price. It's mainly popular for the fact that it is a universal cosmetic with various cosmetic uses. Just a few drops are enough to release the power of vitamins and minerals extracted from castor seeds. NANOIL oil is an organic and environmentally friendly product. It contains castor oil awarded the ECOCERT quality certificate.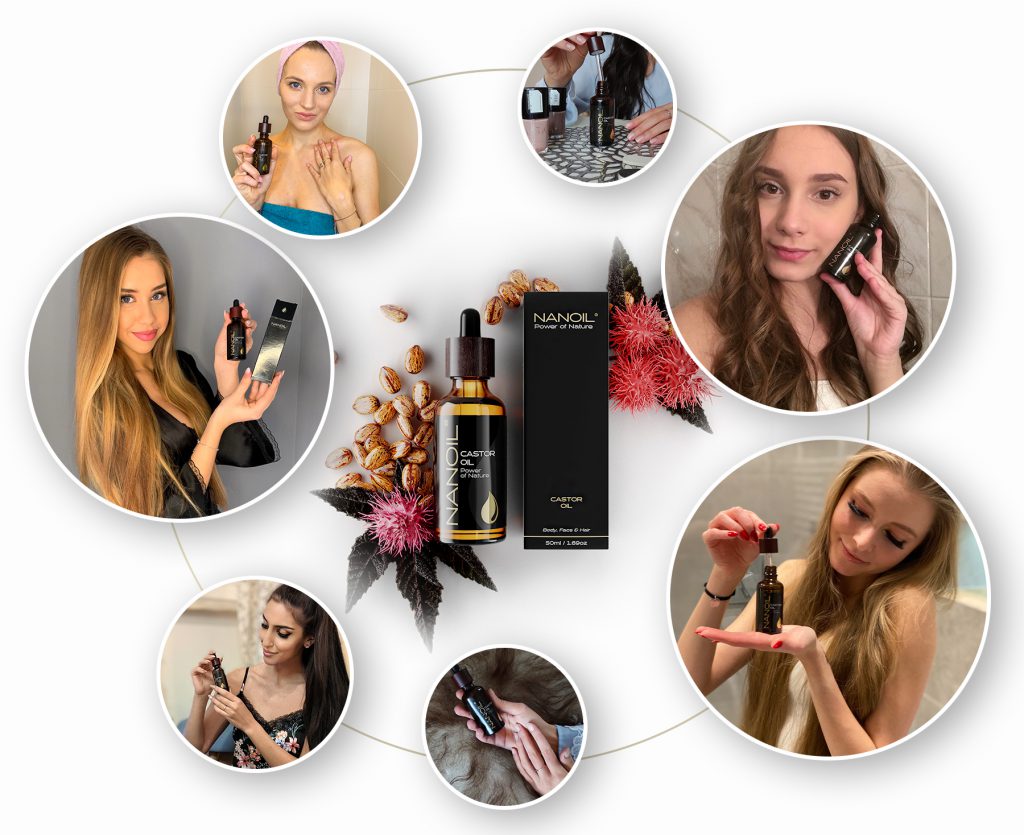 How to use Nanoil castor oil?
1. FOR LONG, THICK HAIR
Nanoil Castor Oil strengthens the hair follicles to stop them from falling out. As a result, the hair begins to grow faster and becomes nourished, strong and healthy. The oil conditions and cleanses the scalp, preventing greasy hair, and adding a beautiful, natural glow and deep color.
2. FOR BEAUTIFUL EYELASHES AND EYEBROWS
Nanoil Castor Oil is a perfect fully natural conditioner for eyebrows and eyelashes: it encourages their growth, thickens, darkens, and lengthens them.
3. FOR STRONG NAILS
Castor oil resembles keratin, the main building block of our skin, hair, and nails – that's what makes the oil such a great conditioner that copes well with the regeneration of even heavily damaged, brittle nails.
Nanoil Castor Oil – benefits
has anti-inflammatory and antifungal properties,
it's 100% organic, cold-pressed, certified, and unrefined,
strengthens the hydro-lipid skin barrier, protecting it against dryness,
helps fight cellulite and stretch marks,
encourages the growth of hair, eyebrows, and eyelashes,
it's multi-purpose and universal,
has a large capacity and great price for such high quality.
Why did the whole world fall in love with castor oil? Because it can be used in many ways and it works great in all of them, regardless of whether you apply it to your hair, skin, eyebrows, eyelashes, or nails. It will also help with grooming men's facial hair, and a handy dropper will allow for accurate dosing of the cosmetic. Nanoil Castor Oil definitely stands out from the competition.
Where to buy Nanoil Castor Oil?
Nanoil Castor Oil can be found in virtually every major online chemist, but it is best to order it from the brand's website: go to the nanoil.co.uk– it guarantees quick home delivery, or to a location convenient for you. Take a step towards natural skin care!